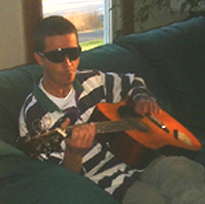 Sonny Probe

Wow, there's just not much I can
say about Sonny Probe....hehehe.
He's the alter ego of writer,singer,
songwriter, raconteur Doug Watts.
Sonny doesn't hold back. Ever. He
will tackle the wildest weirdest and
most controversial topic and make it
tuneful in the process. Or he will find
simplicity and turn it upside down.
And if you don't think that makes any
sense, then you sure as heck won't
want to read the interview.

But I dare ya....


Sonny Probe is worth hearing.
Sometimes a good laugh, sometimes
hard to wrap your mind around. But
worthy. And some songs will stick
in your ears for years, even.


Sonny Probe is an acquired
taste. Okay some people have said
so. There's alot of stuff on the
menu at McProbe Hut, and it's not
all pizza and fries. There is no drive-
thru. You might actually have to
get out of your car and think about
something for a change.