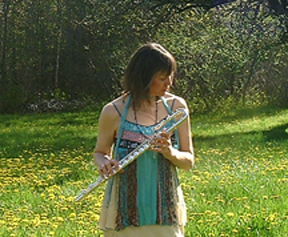 Planet Lightworker review

Flower Spirits
Soothing, mystical, lush, soft soundscapes take you on a passionate yet peaceful journey of bliss
and tranquility. Truly enchanting from start to finish! ...a peaceful and warm ambience....
A beautiful release! Give it a spin!
Reviews of Flower Spirits, the previous album in the Nature Spirits series:

New Age Reporter :
" In Conni's music, the sun always shines and the colors of the rainbow are in evidence in every petal and leaf. Persistent is the sense of growth and energy. There is no doubt the flowers are alive....Flower Spirits is an experience. The songs seem to flow into one another in a very complimentary fashion. I can truly say I liked every single cut on this recording and I can sense that anyone would. I can't wait to hear more of Conni St.Pierre's music.
-- RJLannan


Click here to read RJ Lannan's complete review

Morpheus Music review


Impressionist ambient new age flute and keyboard meditations....
Introspective and dreamy - Conni St Pierre creates visions of leafy glades and dappled meadows where the vastness of the sky meets the intricacy and slow motion of blooming flora. Very relaxing and natural in loose structure, this is music that could fill your ears carrying you off into inspired reverie, or could equally just tint your environment as subtle background music bringing its calming effects unnoticed....a carefully crafted arrangement that seems effortlessly artless and natural.

Read the complete review (click here then scroll down to "s")
Backstage Magazine (Belgium) review

Flower Spirits
Le coup de coeur, un disque trés méditatif, une succession d'instrumentaux inspireés par l'esprit
qui regne sur la nature suvage. Conni St.Pierre fait partie de cette nouvelle scene 'ambient' un
soupçon bizarroide. Armée de sa flute et de son harpe, elle dévoile une musique surprenante,
planante et mystique. Les percussions de Pat Malia insuffient un rythme de vie. On est presque
sur le toit du monde en parfait équilibre avec la nature.
Based on how little I see written about her on the Internet, Conni St. Pierre may be one of the more unheralded and under-appreciated artists in new age music recording today. Her music is uniformly excellent and exemplifies the healing and mystical qualities of the genre, in my opinion. Her employment of acoustic and electronic instruments is expertly balanced and the technical quality of Flower Spirits is excellent (production and engineering are spot-on).
.... a rewarding and evocative CD -- Bill Binkelman
.

Click here to read Bill Binkelman's complete review
Release - September 2009
Review and airplay promos available. Contact us.