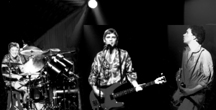 La Peste v.2.0:
a history by singer/guitarist
Ian Kalinosky


Rewind to Boston, late 70s....
You didn't need to do much more than
hang out at The Rat in Kenmore Square
to experience a thriving and vibrant
local music scene. Bands that waxed
and waned through the late 70s and
early 80s included The Real Kids,
Nervous Eaters, Human Sexual
Response, Classic Ruins, DMZ, Lyres,
The Atlantics, The Neighborhoods, The
Count, Pastiche, Unnatural Axe, Mission
of Burma, Thrills, The Outlets, La peste
and others too numerous to mention
here.

I suppose in a backwards kind of way,
I owe my connection to La peste to
Cheap Trick. In the summer of 1977,
my brother Tom and I saw Cheap Trick
at Shaboo in Connecticut, then drove
to Boston the next night in hopes of
catching them at the Paradise. After
striking out on getting tickets, we
ended up at the Rat, in time to see
La peste finish their set (followed by
DMZ). Although I only caught the last
three or four songs, they made a deep
impression on me with their intensity,
tightness, lyrical imagery and great
songs. 'Better Off Dead' was burned
into my psyche, and I remember thinking
these guys weren't messing around.
Roughly two and a half years later, I
joined La peste, taking over guitar and
sharing vocals with Mark and Roger.
Playing with these guys was an
incredible experience, as they had
grown up together as a rhythm section
and seemed to communicate
telepathically! Roger was the ultimate
propeller, always pushing us faster, forward. Mark's bass evolved from
being a rock-solid bottom to more of a
counterpoint to guitar. Our songs were about a variety of topics, but central
themes of isolation, relationships, and
the future weave through most of what
we wrote. (And yes, 'Metal Men' was
inspired by the storm troopers in Star
Wars!)

Over the next two years, we down-
stroked our way around the Boston
scene and the Northeast. Time and
money permitting, we recorded with
Ted St Pierre at Electro-Acoustic in
Boston. I recall four sets of sessions
over this period - some well planned and
some that were essentially live
recordings of the band. Recording with
Ted at Electro-Acoustic suited the band
well as it allowed us to capture our live
sound pretty effectively. The nineteen
songs included on v.2.0 represent the
core of our live sets circa 1980 / 1981.
Back in the day, we were very careful
about releasing any tapes, so most of
this is being heard outside the band's
inner circle for the first time.

We were three regular guys, helped
by a few of our friends, playing in
any club we could, blazing a trail of blue
smoke across the Northeast with our
green mail truck. Lapeste V2.0.


Read the entire
Boston Rock Interview, circa 1980

click here

Click here to buy the cd
or
Click here for download links


La Peste v.2.0, the real deal from the studio archives at The Outlook

RARE! Jan Crocker's VIDEO OF
LA PESTE (with Peter Dayton)
AT THE PARADISE THEATRE
IN BOSTON:
"Better Off Dead"
click here


Check out these photos of La Peste at the Peppermint Lounge, and opening for the Buzzcocks in Boston






photos courtesty of Ian Kalinosky