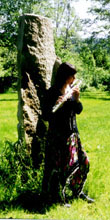 Wind and Wire review (excerpts)

"Very few artists can successfully navigate the straits that separate the ambient and new age music landscapes. After hearing this CD, I'd have to put Conni St. Pierre into that small group of musicians. The concluding album of her"Legends" trilogy, Beyond the Sky: Legends of the starry night, melds the delicate "pretty" side of new age music with the sparse, non-structured aspects of ambient music, yielding an alloy that successfully fuses the two disparate genres into a whole that should appeal to open-minded listeners in both camps.....

I admired how, ultimately, unconventional this recording is. Instead of playing it safe and following
a more clear-cut new age blueprint (featuring major key tonalities and structured melodies),
St. Pierre walked off into relatively uncharted waters. Bell tone keyboards sometimes sound almost
like jazz minimalism (and, in fact, if the synths were sampling a Fender Rhodes instead of bells, you'd
draw that comparison even faster). It's the overall warmth of the artist's compositions that won me
over completely. Her flute playing is a model of efficiency melded with muted passion. I can't re-
member the last album I played that was so effortless to enjoy - the music is soothing, yet not
numbing or boring. The songs are not at all repetitious, yet a distinct continuity exists throughout
the thirteen tracks.... I sincerely urge ambient fans who enjoy the flute as an instrument to
give this album a listen; and, of course, new age music lovers should consider my review as solid an
endoresement of a recording as is possible. Unless you abhor flute music, I can't imagine you not
falling in love with Conni St. Pierre's unqiue and beautiful tone poems.
Here is a recording that resonates at a deep level....This is no schmaltz or cookie-cutter new age
music. It is inspired and genuine and I cannot rave enough about it. I love this album, pure and
simple"
- Bill Binkelman, Wind and Wire

Read the entire review click here
"Beyond the sky: Legends of the starry night" by Conni St.Pierre was named the
#1 New Age Instrumental album for 2003 by Wind and Wire.


---
New Age Retailer review

Beyond the sky: Legends of the starry Night
The highlights of the album are St.Pierre's flute versatility and dexterity. Her skills on alto, shaku-
hachi, American Indian, and drone flutes are on display here. And St.Pierre's keyboard melodies
provide a gentle background or a comforting point on which to meditate.
---
Electron (Belgium) review

The latest album in the trilogy of Conni St.Pierre. The best album of the three. A good mix between
ambient and new age. Assorted flutes combined with keyboards and bells, makes the music smooth,
rich and ismple. You can dream and relax at the same time. One of the best tracks is track number
2, "Message in a Dream." Where the combination of those three instruments is great. Some instru-
ments are created by the keyboard, like the harp. Although that some tracks are hearing the same
all are unique tracks....the nice thing is the variation. some tracks aren't sweet anymore, but over-
whelmed the listener with some darker melodies. If you like New Age, Flute, or want to try some-
thing new, this set is great choice for buying.